This novel was so suspenseful and teetering on the edge of horror that I was both fascinated and repulsed by it…and I mean that in a good way!
I read Therese Heckenkamp's previous novel, Past Suspicion, and really enjoyed it, so I knew I'd probably be pleased with Frozen Footprints as well.  Not only was I pleased, I was blown away.
I try to read mostly Christian fiction because I want to avoid the smut and/or graphic violence and language.  But many times, Christian novels wind up to be sappy and sophomoric, usually resulting in a completely unrealistic conversion-and-they-live-happily-ever-after experience.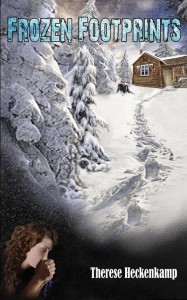 Not so for Charlene and her twin, Maxwell.  They are Catholics, but not perfect Catholics, who come from a very dysfunctional family.  A tragic experience forces them to rely on their faith in order to survive, but things don't come easy.  There are many snares along the way and the reader is kept on the edge of his seat wondering how things will sort themselves out.
Heckenkamp does a great job in creating a villain who is evil and loathsome.  The hair on the back of my neck stood up as I read several scenes in the book.  It was a treat to read a truly scary story that didn't include gratuitous violence and gore.
I hope Heckenkamp will continue to write more horror stories.  We need more quality fiction, especially in this genre.   Ms. Heckenkamp, I'll be waiting for another like this, but I'll be sleeping with the lights on!