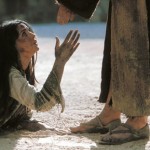 Before I submitted the manuscript for Angela's Song, I had my pastor pray over it.  I stopped him in the vestibule one day after daily Mass.
"Do you have time to bless something?"
"Of course, what is it?"
I held out my hand, which contained a pink flash drive.  "My book."
"What, specifically, do you want me to pray for?"  He always asked the right questions, this priest.
"Healing," I answered.  "I want the readers of this book to experience God's healing presence in their lives."
He nodded and raised his hand over the flash drive and what came out of his mouth was a beautiful, profound blessing and intercessory prayer to the Lord, for wisdom, for healing, for conversions, for hope, peace and love.  In my pastor's blessing were the deepest desires of my heart.
In my adult life I've acquired what is called a 'zeal for souls.'  I constantly pray for conversions.  This is why I identify so well with St. Therese of Lisieux.  Everyone, to me, is Pranzetti, including myself.  On the advice of St. Paul, I 'work out my salvation with fear and trembling.'
Conversion rarely comes through preaching.  Conversion will come, firstly, with prayer.  Because it is the Holy Spirit, really, that does the conversion.  Look to the apostles on Pentecost.  Their nine-day prayer to the Holy Spirit resulted in the conversion of thousands and the birth of a Church that still stands today, with billions of faithful over the globe.
But the Lord heard my meager prayer for souls as I wrote Angela's Song, and today I saw proof of His profound love and faithfulness.  I received an e-mail from a woman who had her heart broken time and time again, which made her harden her heart and turn away from God.  But, she wrote, after reading Angela's Song, that she has made the decision to forgive and to let God back into her life.  I am in awe of the goodness of God in allowing me to know this and see His work through my writing!
How many times have we shut God out because of the hurt caused by people?  I know I have.  What about when we hurt others?  We often shut God out of our lives because we feel unworthy of His love.  There are so many reasons why we harden our hearts.  But the only thing that can soften them again is forgiveness.
We need to forgive others and ourselves.  Forgiving others isn't too hard…if they're contrite.  But what about of they don't apologize?  What if they continue doing all the nasty things that hurt you?  Forgive anyway.  I know…I know…it's hard.  I've been there, done that, as well.  The secret to forgiveness is to realize that the forgiveness sets you free, not the person you forgive.  That is between them and God.  How do you know you've truly forgiven?  When you can pray for the person.  When you have no malice toward them.  Forgiveness doesn't magically take the hurt away.  It does, however, pull down the bars of the prison you've built for yourself.
Self forgiveness is probably more difficult than forgiving others.  When we are unable to forgive ourselves, it turns into self-loathing, which can lead to all sorts of serious issues, such as self-injury, depression or suicidal thoughts.  (Of course, these things are not always caused by self unforgiveness. It could be a possible cause; there are clinical origins as well, which need to be addressed by a professional.)
Again, forgiveness is the answer.   In Wisdom 11:24, the bible tells us:
For you love all things that are

and loathe nothing that you have made

for what you hated, you would not have fashioned.
Your sins are not greater than the Lord's love.  They are not more powerful than the Blood which redeemed them.
Psalm 51 is a soothing psalm, which asks for healing and restoration.  Pray this daily, if you need help in this area.
If you have a deep wound, caused either by your own or someone else's actions, ask for help from God.  He is waiting to help you.  Angela's prayers in my novel demonstrate a type of visual prayer that is very healing.  A friend of mine shared the following form of prayer with me and it has helped me on so many occasions.
Before you go to sleep, imagine that you are with Jesus.  He is standing before you, with the healing rays of love coming from His heart into yours.  Ask your guardian angel to keep you there, with Jesus, while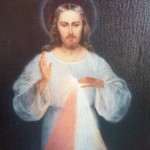 you sleep, so He can heal your wounds.  Do this as many times as you need to, until you are able to forgive yourself and others.
When angry or negative thoughts surface about yourself or the person who hurt you, repeat, "Jesus, I trust in You," until the thoughts dissipate.
Unforgiveness is a burden. God wants to release us from it.  Turn to Him for help.  Let go of the unforgiveness and walk in freedom.