It's the Eve of the birth of Our Lord.  The manger is waiting, somewhere in time, to welcome Him, the Word Made Flesh.  He comes to the world in the form of humanity, to take on humanity; to take on all that is human, yet still remain divine. He gives us, as a gift, all of Him.
But what does He ask in return?
He wants all of us.  He wants us to fill the manger before He comes, so He can dwell with us and our humanity.
Take some time today and give Him all of you; all of your fears. loves, desires, sufferings and concerns.  Place them in the manger.  And when He comes, at midnight, at that timeless, glorious moment, He will take onto Himself all that you are, all that you have.
He will carry your burdens as He grows, and they will be with Him on that excruciating walk to Calvary.  It is why He comes to us, to bear our burdens, because we cannot possibly bear them alone.
Close your eyes and go to the cave in Bethlehem, where a young virgin is waiting and making preparations.  Do you see the manger?  It's empty, save for a bit of straw.  Go and kneel before it and unburden yourself.  Fill the cradle with everything that is in your heart:
"I'm afraid my husband will leave me."
"My children are keeping company with the wrong people."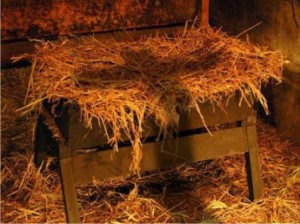 "My mother is dying and I don't know how to live without her."
"I'm next in the round of layoffs."
"I have deep wounds from verbal/physical/sexual abuse."
"Why, why am I unable to have a baby?"
"My wife doesn't love me anymore."
"I'm worried we can't pay the bills."
"I give you my motherhood/fatherhood, my vocation as a wife/husband, my work, my talents, my faults, my sadness, my joy, my worries and my temporal needs…I GIVE YOU ALL OF ME."
Why do you think He came to Bethlehem–the City of Bread–and was gently laid in a manger; the place where animals feed?  In the humble circumstances surrounding His birth, He shows us that He loves us SO much, that He literally wants to share all of Himself with us, in the form of food. (See John 6: 35-58)
He asks no less of us.  He gives us all of Himself and He wants all from us.
So, this night, take a break from the busyness of the holidays and quiet yourself.  Then visit the manger and fill it to overflowing.