Lent and Advent are good times during the liturgical year to read books of reflections on our relationship with the Lord.  So, when I saw that Marageret Rose Realy had just published Cultivating God's Garden Through Lent, I downloaded it onto my Kindle and made a quick survey of it, to see whether I wanted to use it this year.  From the first page, I was hooked.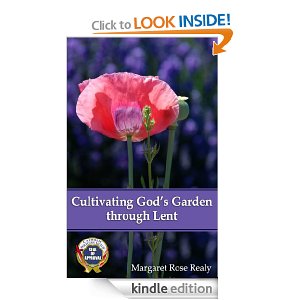 This book, despite the title, isn't just for gardeners.  And I'm thankful for that, because I have what they call a black thumb.  In fact, I'm so toxic to anything that grows, I've been banned from the family garden.  But that's okay with me, because mostly everything about gardening (having to go outside, for example), doesn't match my personal tastes.  Except for the flowers, of course.  I love having fresh cut flowers on my table.  I just like when they come from somewhere else and I don't have anything to do with the process that happens before they appear in a vase in my dining room.  But I digress…
Margaret Rose Realy is a talented writer, who brings readers gently through the season of Lent, encouraging us, with earthy metaphors, to look at ourselves in a new way.  Realy's reflections reveal the presence of God through nature and draw us closer to Him as we ponder her musings on gardening, neighbors and the cycle of life.  There is a peace that comes from meditating on Realy's entries that I haven't found in a book like this in quite sometime.  In this brief encounter with her thoughts, I was reminded that the Lord is often found in a whisper or a gentle breeze.
Pick up this book for Lent–in fact, download it right now— if you are looking for an oasis of peace in our often chaotic world.  You will be rewarded greatly.