AnnMarie Creedon The Roman(tic) Catholic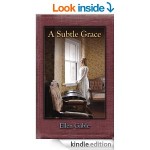 Ellen Gable's A Subtle Grace, the sequel to the Amazon best-seller, In Name Only, is her best work to date.  I am a big fan of In Name Only, the first O'Donovan Family novel, and have been looking forward to the release of the second book.  If you haven't read the first book, you will still enjoy A Subtle Grace, because it can stand alone. Both books are available on Amazon in print and Kindle format.
Set in Philadelphia, in 1896, the novel follows the story of 19-year-old Kathleen O'Donovan, daughter of Caroline and David O'Donovan, who are featured in In Name Only.  The impulsive and immature Kathleen witnesses the pairing off of many of her friends and is longing for a husband of her own.  However, she desires marriage over a true relationship and this is what eventually gets her into trouble.
She is training to be a nurse and, in the process, becomes acquainted with the town doctor.  Kathleen also develops an infatuation with the Local Police Chief's son.  It is in these relationships that Gable juxtaposes love and lust.  It is a potent illustration of what constitutes authentic love and what it takes to achieve that.
One of Gable's strengths is the lengths she goes to paint a historically accurate picture of the time period.  Her writing gives the reader a vivid mental picture of what life was like in the late 1800's, the food, fashions and social practices all add to the reader's enjoyment.
Another strength is Gable's ability to write a good villain.  And by good, I mean bad. Evil!  It is a self-indulgent pleasure to hope the 'bad guy' will get his comeuppance. Gable helps you to relish that feeling.
There are several sub-plots which keep the story moving; Kathleen's brother Will's calling to the priesthood, a secret buried deep within her father's past, and another brother's shame.
Fans of historical fiction will appreciate this novel.  Those who enjoy the genre of romance–particularly Christian romance–will savor it. Not merely the story of a young girl's journey to maturity, A Subtle Grace is a masterfully written illustration of the difference between lust and love, between rashness and fortitude, between mere existence and truly living.