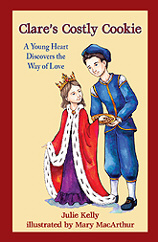 Clare's Costly Cookie , published by Nativity Press, is the sweet story of a young girl and her developing relationship with Jesus.  Written as a series of prayerful conversations between Clare and Jesus, it is a wonderful tool for teaching children not only how to pray, but offers many life lessons that will enable them to grow in holiness.
Clare, the third of four children, often steals away to pray and work out her problems.  She encounters the challenges of any nine-year-old;  having to watch her younger brother, arguing with her older siblings, dealing with family members' foul moods, struggles with sharing and speaking kindly toward others…the list goes on.  Clare, in her prayer, models for the reader how to pour one's heart out to Jesus.  Each chapter brings a new challenge and a new prayer.  After praying, Clare listens quietly, and a solution to her problem is revealed to her. She concludes with a resolution to change or try harder.  At the end of each chapter there is a scripture quote which is related to the problem Clare brought to prayer.
This book functions almost as a mini-catechism, exposing the reader to topics such as the Real Presence of Jesus in the Blessed Sacrament, resisting temptation, the armor of God, redemptive suffering,  the role of the Blessed Virgin Mary, humility and Eucharistic Adoration. Interwoven through Clare's prayer are short stories of the saints, which help her resolve to be more like them in her daily life.
Author Julie Kelly is a Catholic homeschooling mom of six children and founder of Nativity Press.  A former retreat director, her expertise in this area comes through in her uncomplicated, yet eloquent writing.  The simple, elegant illustrations by Mary MacArthur enhance the reader's experience and understanding of the story.
I wish I would have had this treasure to use when my own children were preparing for the sacrament of First Holy Communion.  It would have made teaching them much, much easier. At a mere 96 pages, this book is packed with Catholic teaching.  The engaging dialogues are a perfect read-aloud for parents of younger children and excellent for students in the elementary grades to tackle on their own.  Clare's Costly Cookie would make a delightful gift for any child, particularly one who is preparing for or has received their First Holy Communion.